HOME PAGE
ABOUT US
WHAT'S NEW
CONTACT US
APPLICATION NOTES
PRODUCTS (by Model Numbers)
PRODUCT CATEGORIES:
Accessories
cables
connectors
mic accessories
selectors
Cases and Cabinets
DJ Products
Headphones
Karaoke Systems
Lighting
Microphones
Mixers/Amps
power amplifiers
mixing amplifiers
mixers
PA Systems
waist-band
wireless
Players
Sound Effectors
Speakers
Stands & Mounts
Trusses
Wireless Systems

AKJ7300 - DJ/KJ Mixer with Key Control and Two Sets of Echoes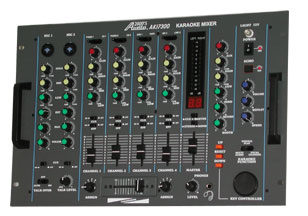 The Audio2000'S® AKJ7300 DJ/KJ mixer with the digital key & digital echo is specifically designed and optimized for the professional applications of the karaoke Jockeys (KJ), disc jockeys (DJ) and home users. The AKJ7300 KJ/DJ mixer is so considerably suited to both KJ's and DJ's that any DJ will find it useful and powerful while any KJ will find it extensive and delicate.
First, the key control function can be enabled or disabled (in addition to "reset") by the user. Once the key control function is enabled by the user, the user can apply the key control function to the music path, the microphone path or both to fine tune the combined effects of the music and vocal sounds. Especially, with the digital function being able to be applied to the microphone path, additional dimensions of the vocal sound control and adjustment can be enhanced and induced for the ultimate entertainment results of any karaoke , party or show. Furthermore, this key control mechanism is capable of shifting the key up 12 steps or down 12 steps with each step being 1/4 note apart. Under extraordinary design and component selection, this key control function has extremely low distortion and, hence, the key can be shifted up or down extremely smoothly and handsomely.
Secondly, two sets of digital echo circuitry's are incorporated in the AKJ7300, one to the music path and the other to the microphone path. The echo sound quality is also designed to be smooth and real.
In addition, the AKJ7300 includes the capability of switching/selecting the video input automatically or manually. Four video input terminals and one video output terminal enable users to operate up to four audio/video equipment simultaneously. A switch is on the AKJ7300 to select the automatic or manual video input selection mode.
Numerous useful features such as talk-over, replaceable cross-fader, individual tone control to each channel (including microphone channel) and individual sound effect button are incorporated to the AKJ7300 for versatility.
The extraordinary features of quality key control with extremely low key-shift distortion, clear/transparent echo sound, versatile performances and function, and rugged/delicate appearance make the AKJ7300KJ/DJ mixer an outstanding value in any critical karaoke or DJ application.
APPLICATIONS
Disc jockey (DJ); karaoke jockey (KJ); karaoke; home entertainment
FEATURES CONFIGURED TO BE USER FRIENDLY
No Power ON/OFF Popping Noise

3 Mic Inputs/2 Phono Inputs/2 Line Inputs/2 CD Inputs/1 Tape Input/1 AUX Input

Microphones with XLR & ¼" Jacks; with Three Band TONE Control, EFF Level Control, PAN Control and CUE Select Button
Three Section TALK-OVER Control

:

AUTO TALK-OVER, TALK-OVER and OFF
TALK-OVER Level Control
4 Audio Inputs: GAIN/Three Band TONE Control/CUE Select Button/EFF Select Button

+/- 12 Steps Digital Key Control

Digital Echo

Digital Echo Volume/Delay/Repeat Controls

MULTI-AUDIO and VOCAL CHANGE Function for CH1-CH4 (Karaoke Function)
CROSS FADER Select Switch
Three Audio Outputs for REC, AMP & BOOTH

Output Level Indicator with Peak Holder

SEND and RETURN Functions

Four Video Inputs

Auto/Manual Video Input Selection
SPECIFICATIONS
Total Harmonic Distortion (@1KHz)
0.05%
Input Sensitivity/Impedance
Microphone - 3mV/10K Ohm
Phono (RIAA) - 3mV/50KOhms
LINE, CD, TAPE, AUX, RETURN - 150mV/50KOhm
Output Level/Impedance
AMP, BOOTH - 1V/600 Ohm
RECORD, SEND - 500 mV/600 Ohm
PHONES - 100 mV/8Ohm
Frequency Response
20 Hz to 20 KHz (+/- 1dB)
Signal/Noise Ratio
MICROPHONE, PHONO - 70 dB
CD,LINE,TAPE,AUX,RETURN - 75 dB
Talk-Over
0 dB to -20 dB
Echo
Digital System, Delay Time - 0-300 msec
Key Control Range
+/- 12 Steps (1/4 Key/step)
Power Supply
110-120V/220-240V, 60/50Hz
Power Consumption
20W
Weight
11.4 lbs (5.2 Kgs)
Dimensions (W X D X H)
19.2" X 12.2" X 4.2" (482 X 300 X 110 mm)