APM175PRO - Professional Dynamic Microphone with 20 ft. Hi-Z Cable
APM175PRO-L - Professional Dynamic Microphone with 20 ft. Lo-Z Cable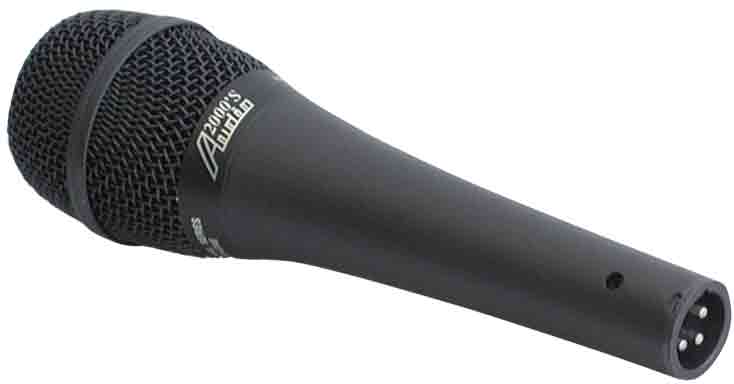 The Audio2000'S® APM175PRO microphone is a versatile professional dynamic microphone of exceptionally high quality. A super efficient magnetic circuit design utilizing twin AlNiCo magnet elements provides maximum output level for an improved signal-to-noise ratio for all vocal and sound reinforcement applications.
Incorporated with an extremely light weight diaphragm, the low impedance capsule inheres excellent transient responses and a wide frequency range with the results of a transparent presentation of sound amplification.
The APM175PRO's frequency response is optimized for vocal application by controlling proximity effect through its low-frequency rolloff. The APM175PRO's extended frequency response provides a clarity normally found only in condenser microphones.
Throughout the APM175PRO's full frequency range, the hypercardioid pattern of the APM175PRO stays uniform and symmetrical to significantly cut off any feedback and off-axis coloration. Advanced design in the shock-mounted microphone element and delicately finished surface keep handling noise extremely low.
The extraordinary features of sound clarity and transparency, high output, extremely low handling noise, uniform hypercardioid pickup pattern, and delicately designed and finished surface make the APM175PRO microphone an outstanding value in any critical vocal application.
Features Configured To Be User Friendly
APM175PRO comprises a low impedance element with extremely light weight diaphragm for excellent transient response and a wide frequency range with exceptional detail and clarity.
APM175PRO contains twin AlNiCo magnet elements precisely constructed in a housing having wide dynamic range for smoothly reproducing a clear and uncolored sound.
With low-frequency rolloff and extended high-frequency response, the APM175PRO captures the original vocal sound with extraordinary clarity.
Tight hypercardioid pattern stays uniform and symmetrical throughout the APM175PRO's entire frequency range to minimize feedback.
Advanced shockmount and microphone element design effectively minimize handling and stand noise.
Rugged and durable nickel finished zinc casing.
A rugged dent-resistant steel mesh grille provides extended life and durability.
PACKAGE
The standard APM175PRO package includes an APM175PRO microphone, a microphone holder, and a 20' microphone cable in a deluxe cardboard box. The microphone cable can be a low impedance cable (XLRF-XLRM) or an XLR - 1/4" cable.
APPLICATIONS
Musician / lead singers; disc jockey (DJ); karaoke jockey (KJ); church; school; conference room; karaoke; home entertainment
SPECIFICATIONS
| | |
| --- | --- |
| Type | Dynamic |
| Polar Pattern | Hypercardioid |
| Sensitivity | 2mV/Pa @1KHz (-74 +/- 3dB; 0dB = 1V/0.1Pa) |
| Output Impedance | 340 Ohms |
| Frequency Response | 50 - 18,000 Hz |
| Max.Input Level | 138 dB (SPL) |
| Weight | 8.7oz. / 250g |