AWM6522U - Rechargeable UHF Dual-Channel Wireless Microphone System
Front View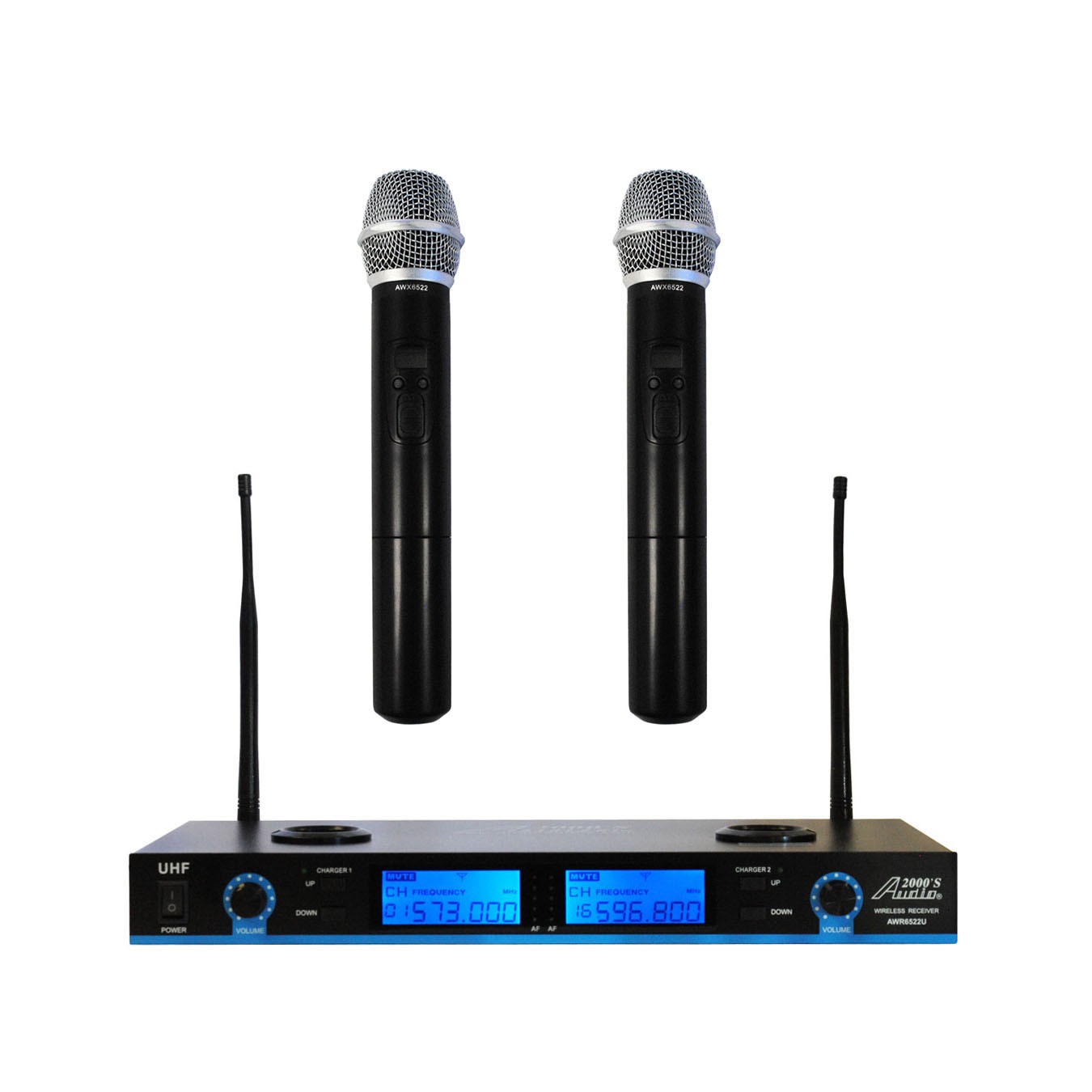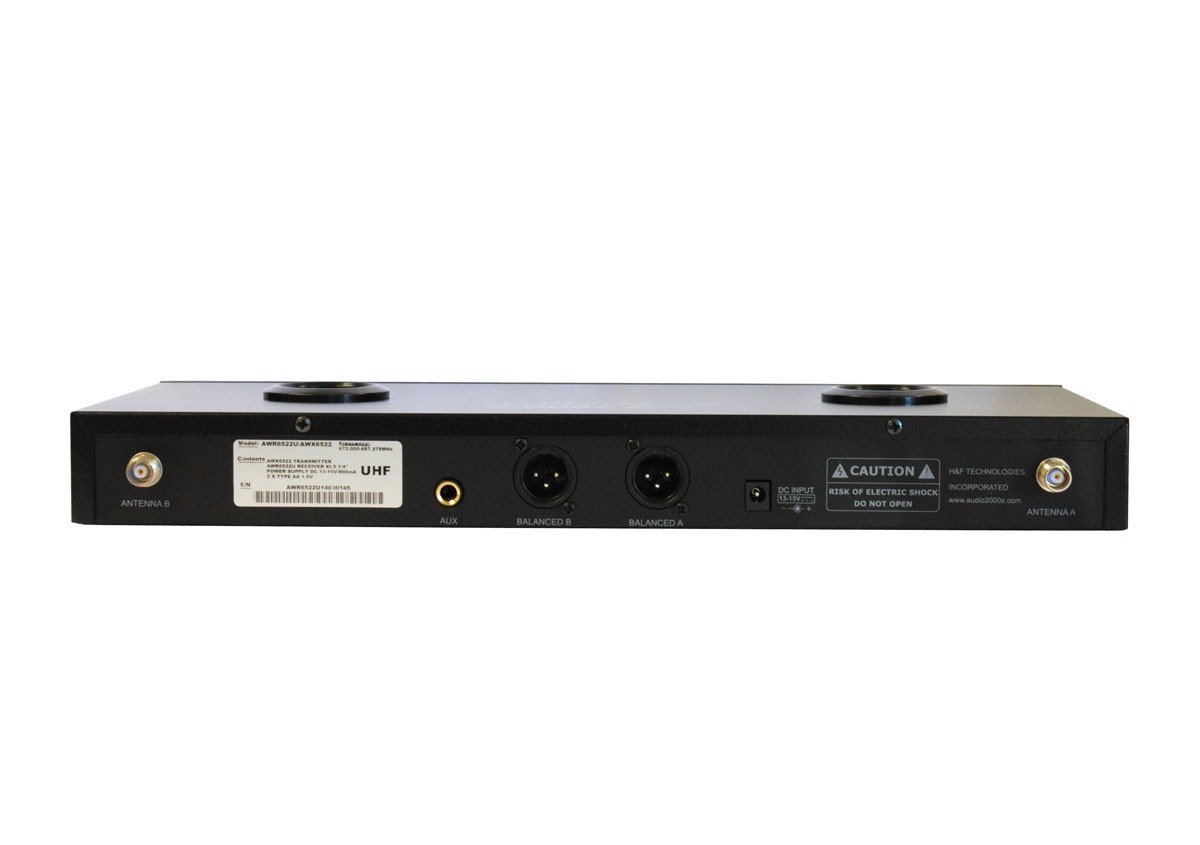 The Audio2000'S® AWM6522U Plug-In-N-RechargeTM UHF dual-channel wireless microphone system (SKU# AWM6522U UPC: 844565010100) is a wireless microphone system with the recharge mechanism right on the top of the receiver (AWR6522U) and on the microphone (AWX6520). Intended to be a solution provider for various application environment, the AWM6522U system is developed to provide the following benefits to the users:
Friendliness:
The Plug-In-N-RechargeTM feature, with the recharge mechanism built right on the microphone and the receiver, makes the wireless microphone systems ready to be used at any time.
Dependability:
The AWM65

2

2

U

system has been designed and manufactured to be dependable, problem free, versatile and easy to use.
Quality:
The AWM6

52

2

U

system has been engineered to have a wide audio frequency range, high S/N ratio, and outstanding performance. A delicately designed silence circuit eliminates static noise when the transmitters are either turned off or out of transmission range. An auto mute circuit is incorporated in these systems to effectively eliminate the popping noise when the switch is turned on or off.
Affordability:
The AWM65

2

2

U

system is intended to be readily accessible to everyone with exceptional performance at a preferred and affordable price.
APPLICATIONS
Musician; disc jockey (DJ); karaoke jockey (KJ); church; school; conference room; karaoke; home entertainment
AWR6522U RECEIVER
FEATURES
* UHF Band Frequency


* Recharge Mechanism Built-in on the Receiver
* Balanced and Unbalanced Audio Outputs
* Full Rack Case with Power and RF Indicators
* Audio Level (AF) LED Indicators
* RF Input with Built-in RF Preamplifier to Improve S/N Ratio, Sensitivity and Dynamic Range
* Low Noise Mixer Circuitry for Reducing interference




* Two Squelch Control Knobs (One for Each Channel) at the Rear Panel
* 12V-18V DC Power Supply

SPECIFICATIONS

| | |
| --- | --- |
| Carrier Frequency Range | 571 - 598 MHz |
| Frequency Stability | +/- 0.005% |
| Receiving Sensitivity | -105 dB |
| S/N Ratio | 85 dB |
| Audio Output | ¼" and XLR (0 – 300 mV @ 600 Ohms) |
| T.H.D. | < 0.5% |
| Antennae Type | F Connector |
| Dimensions (W X H X D) | 16.5" X 1.7" X 7.1" (420 X 42 X 180 mm) |
AWX6520 TRANSMITTER
FEATURES
* UHF Band Frequency
* Recharge Mechanism at the Bottom of the Handheld Microphone
* High Sensitivity Cardioid Capsule for Handheld Microphone
* High Sensitivity Condenser Capsule for Lavalier Microphone
* Noise Reduction Mechanism for Eliminating Handling Noise and Switch Shock Noise
* Battery LED Indicator

AWX6520 FUNCTIONS

1. Microphone Windscreen
2. Microphone Housing
3. Low Battery LED Indicator
4. On/Off Switch
5. Battery Cover
6. Recharge Contacts

SPECIFICATIONS

| | |
| --- | --- |
| Carrier Frequency Range | 571 - 598 MHz |
| Frequency Stability | +/- 0.002% |
| Modulation | Frequency Modulation (FM) |
| Modulation Depth | 40KHz |
| Output Power | 10mW, Max. |
| Spurious Emission | > 55dB |
| Current Consumption | <150mA |
| Battery | Rechargeable AA Battery (1.5V) |
| Dimensions (W X H X D) | 9.7" X 2.0" X 2.0" (245 X 51 X 51 mm) |

SYSTEM

| | |
| --- | --- |
| Carrier Frequency Range | 571 - 598 MHz |
| Frequency Stability | +/- 0.005% |
| Audio Frequency Response | 50 – 15,000Hz |
| S/N Ratio | > 100dB |
| Max. SPL | 110 dB |
| T.H.D. | < 0.5% |
| Service Area | 100 ft (30M) |
| Operation Temperature | 14 °F -122 °F (-10 °C - +50 °C) |